Hot rods
Last updated on September 28, 2013
---
Traditional hot rods
---
One of the neat things about hot rods is that they can be designed and built just about any way you want. But most hot rods fall into one of two categories: traditional hot rods; and street rods. Most of us can appreciate both styles of cars to some degree but prefer one style of car over the other.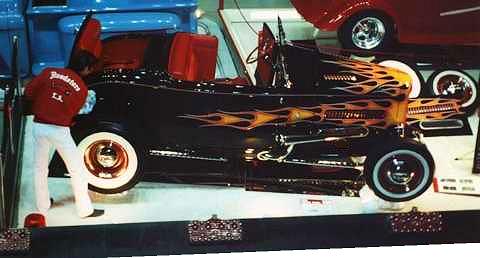 Tommy Otis designed and built the outstanding "L.A. Highboy" shown here. This car is a perfect example of using classic hot rod parts parts to build a superb, traditional hot rod.

We'll get back to discussing traditional hot rods after we take a look at street rods.

A street rod could be defined as being a car that resembles a hot rod, but it was built with all new parts. Essentially, you buy all your new parts and put the car together; or as is more often the case with a street rod, you pay people to put it together for you.

Street rods are almost always built with radial tires. Look inside one and you'll often see a tilt steering column, modern seat, and sometimes digital instruments.


High-tech street rodders define the cutting edge of street rodding by using exotic, hand-formed bodywork, and custom-machined parts that often include independent suspension, trick paint, and billet aluminum wheels with low-profile radials.

These cars are almost never built by their owners. As far as cost goes, a modern, high-tech, turn-key street rod can range from around a-hundred-thousand to as high as a million dollars. If you're trying to set a new standard, in show competition against the most exotic, handbuilt show cars in the world, there is really no upper limit to what you can spend.

Now let's get back to traditional hot rods.

A traditional hot rod is put together to look like it was built (or could have been built) decades ago, by using as many parts as possible that were made no later than the Fifties or the Sixties at the latest.

The first step in planning a project car is to decide on what you want to end up with when the car is finished. The goal is to pick a theme for the car and stay with it. My taste in hot rods leans toward cars that were built (or look they were built) between the early 1950s and the late '60s, especially in northern California.

Roadsters, phaetons, cabriolets, coupes, sedans, sedan deliveries, and even pickups are all good candidates; but the "phantom" body styles that are often seen on street rods could be considered to be out-of-place on a traditional car.

Whatever era of car you're building, once you have picked a theme for it, it's important to stay within that time frame. For example, a '50s car would have had a generator, not an alternator. To do it right, you're going to have to use bias-ply tires instead of radials. If you're building a car with a '50s or '60s (or even a '70s) theme, you'll want to avoid using parts like small block Chevy center-bolt valve covers, or any other parts that weren't available at the time. Hence the term "period correct". It's easy to miss the point in the eyes of purists. You have to stay with the theme.

More than any other parts on a hot rod, it's the wheels that set the theme for the car. Here's a brief overview of some of the wheels that have been popular on hot rods over the years.

Going all the way back to the birth of hot rodding and oval track racing in the 1920s, most hot rods were early Fords that used early Ford steel wheels that were stock or modified. By the early '50s, Ted Halibrand's magnesium wheels became the standard choice on Indy cars, sprint cars, and midget racers. Some, but not many, of his wheels were also run on the street. Chrome steel wheels and spun aluminum Moon discs were introduced later in the 1950s.

In the early '60s, the magnesium Halibrand Sprint provided the inspiration for the aluminum Ansen Sprint, which looked similar to the magnesium Halibrand but with a fully-machined face that eliminated the raised lips around the slots. The early '60s also saw the introduction of the aluminum American Racing Torq-Thrust five-spoke, and the Cragar S/S composite steel and aluminum five-spoke. In the mid-'60s, these were followed by the American Racing Torq-Thrust "D" for new '65 Corvettes with disc brakes. The late '60s saw the introduction of the E-T III. These are some of the wheels that are discussed in more detail on this site's page about classic racing wheels.

If you're building a traditional early Ford hot rod, especially a '40s or '50s car with a flathead, Mike Bishop and Vern Tardel have written an excellent book that shows what's involved in selecting parts and getting them to work together. The book lists for $24.95, and the ISBN is 0-7603-0900-0.

The sites that follow have been selected as being representative of a growing trend in hot rodding: a return to rodding's roots, with cars being built by using a lot of original parts, and built by their owners, they way they were decades ago. And unless they're on their way to the drag strip or the salt flats, you won't see them on trailers. These cars are built to be driven and enjoyed.


---
Build your dream
---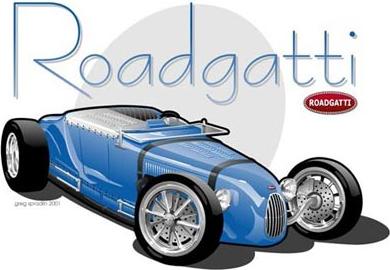 Time after time we see examples of people spending a great deal of time, energy, and money on a car that is not what they really wanted, but what they were able to afford. When someone does that a few times, they may realize that if they hadn't, they could have had built their dream car.

At any big rod run, you're bound to see a few "oddball" cars. These are cars that wouldn't make the top ten of anyone's list of dream cars, but their owners probably bought them because they found them at the right price, and decided that they would do until they were able to afford something closer to their ideal. Whether it's a '33 Plymouth four-door, or a four-door '38 Buick doesn't matter. Many of us simply consider cars like this to be diversions from people's dreams.

In 2002, someone had put a 1924 Buick roadster body up for auction on eBayMotors. He mentioned that only a few of them were known to exist, and that he had searched for several years and traveled cross-country to find this one. It may well have been the nicest one in the country, and needed very little work to get it ready for paint. When the auction ended, it didn't meet the reserve, and only went up to around four-hundred bucks. The lesson here is that while there are thousands of us that are searching for nice, steel roadster bodies, hardly anyone cared about this one, because it was a 1924 Buick. People build early Ford hot rods because that's what most of us have always liked, understood, built, rodded, and raced.

I once worked with a sixteen-year-old that had just started his first job, and the prospective paychecks had his head spinning. He told me about a Ford Falcon that he was looking forward to buying and fixing up. The plan was to buy the car right away and tear it apart, and then use as much money as he possibly could afford to buy parts for it. It was slated to get a new engine and transmission, a rear end swap, suspension upgrades, bodywork, paint, a new interior, and a set of wheels and tires. I asked him what kind of car he would like to have if he could afford anything. Without hesitating, he said that it would be an early Mustang. I pointed out that instead of getting distracted with the Falcon, he could save up and before too long he'd be able to buy the car that he really wanted. He said that he didn't want to wait. I told him that even if he put a Ford Cammer engine, a Lenco transmission, and full tube chassis in that Falcon, when it was all done, nobody would care, because no matter how much money he threw at it, it would still be a Ford Falcon. Ultimately, I reasoned, the Falcon would just be a distraction that kept him from reaching his goal of having the early Mustang that he really wanted. And while it seemed unattainable to him at the time, the goal was actally quite reasonable.

In April of 2004, someone on a message board mentioned that he had the chance to buy a chassis from a 1978 Chevy Malibu, and was asking people what other bodies would fit it. This wasn't going to be his first project. He already had a 1959 Mercury, a 1964 Ford Fairlane that was done up along the lines of a Thunderbolt drag car, an all-original '64 1/2 Mustang, and a 1970 Ford F-100 pickup that he was converting to four-wheel-drive. It seemed like he had no real need for the Malibu chassis, and was considering buying it because it was easily-available and reasonably-priced. In his second post on the subject, he mentioned that his Fairlane Thunderbolt clone ran in the 15s, and he'd like it to be quicker.

There are two possible scenarios here. In the first, he gets started on another project, based around the '78 Malibu chassis. Considerable time, energy, and money are spent installing another body on it, with the likely result being something that had more compromises than any of his existing projects. The second option would be for him to forget about taking on yet another project, and instead take the same amount of time, energy, and money and putting it into improving the performance of the Thunderbolt project. Starting with a 460 out of a '69 Lincoln, it wouldn't be too much work to get that car to run in the low 13s. Given some good engineering and workmanship, the result could be a really neat car.

Over the years, while discussing possible project cars, a number of people have advised me to pick the one car that I'd like to have more than anything, and work toward that goal, without compromising or getting distracted by something less that happened to come along. Cars like that are always showing up, and you can learn a lot from working on them, but they would ultimately prevent us from building our dream. It's good advice.


---
Hot rod builders
---
B Rod or Custom — Knoxville, TN
http://www.b-rodorcustom.com/

Bear Metal Kustoms — Morro Bay, CA
http://www.bearmetalkustoms.com/

Bennett Coachworks — Milwaukie, WI
http://www.hotrodbuilders.com/

Bill's Rod & Custom — Springfield, OH
http://www.billsrodandcustomshop.com/

Roy Brizio Street Rods — South San Francisco, CA
http://www.roybriziostreetrods.com/

Chopper Lance — Burbank, CA
http://www.chopperlance.com/

Circle City Hot Rods — Orange, CA
http://www.circlecityhotrods.com/

Cornhusker Rod & Custom, Inc. — Alexandria, NB
http://www.cornhuskerrodandcustom.net/

Custom Automotive Restoration — Portland, OR
http://www.customautomotive.com/

Don's Kustoms — Fort Bragg, CA
http://www.donskustoms.com/

Dream Machines — Toronto, Ontario
http://www.dreammachinesltd.com/

Extreme Metal & Paint — Anacortes, WA
http://www.extrememetalpaint.com/

FastLane Rod Shop — Donohue, IA
http://www.fastlanerodshop.com/

Bill Hall Body & Frame — Portland, OR
http://www.billhallbodyandframe.com/

Horton, Inc. — Ontario, Canada
http://www.horton.on.ca/

Hot Rods & Custom Stuff — Escondido, CA
http://www.hotrodscustomstuff.com/

Hot Rods by Dean — Phoenix, AZ
http://www.hotrodsbydean.com/

Ionia Hot Rod Shop — Iona, MI
http://www.ioniahotrods.com/

JB Street Rods
http://www.jbstreetrods.com/

Johnson's Hot Rod Shop — Gadsden, AL
http://www.johnsonshotrodshop.com/
Kemps Rod and Restoration, Inc. — Iron Mountain, MI
http://www.kempsrodandrestoration.com/

Lance Hot Rods & Customs — Burbank, CA
http://www.lancehotrods.com/

LimeWorks Speed Shop — Whittier, CA
http://www.limeworksspeedshop.com/

Loboy's Rod & Custom — Baldur, Manitoba
http://www.loboys.com/

Midwest Hot Rods — Plainfield, IL
http://www.midwesthotrods.com/

Posies — Hummelstown, PA
http://www.posiesrodsandcustoms.com/

Quality Restoration Street Rods — Port Orchard, WA
http://www.qrsr.com/

Radical Engineering — Greensboro, NC
http://www.radicalengineering.com/

Retro Rides by Rich — Archdale, NC
http://www.retroridesbyrich.com/

Rhodes Custom Auto Works — Townsend, DE
http://www.rhodescustomauto.com/

Salinas Boys — Salinas, CA
http://www.salinasboys.com/

Smoky Hill Restoration — Granbury, TX
http://www.smokyhillrestoration.com/

SO-CAL Speed Shop — AZ, CA, CO, UT, and TX
http://www.so-calspeedshop.com/

Southtown Street Rods — South Coffeyville, OK
http://www.southtownstreetrods.com/

Strange Motion — Cambridge, IL
http://www.strangemotion.com/

Street Rods by Michael — TN
http://www.srbymichael.com/

Tucci Engineering — Marcy, NY
http://www.tuccihotrods.com/

Vintage Hammer Garage — Yucaipa, CA
http://www.vintagehammergarage.com/

Barry White's Street Rod Repair Co. — Placentia, CA
http://www.barrywhitesrrc.com/

Ziggy's Hot Rods — Australia
http://www.ziggyshotrods.com/
---
Clubs and associations
---
---
Hot rod events
---
Antique Auto Museum at Hershey, Pennsylvania
http://www.aacamuseum.org/
Antiques on the Bay — in St. Ignace, MI
http://www.nostalgia-prod.com/
Back to the Fifties — in St. Paul, MN
http://www.msra.com/
Barrett Jackson — in AZ, FL, and NV
http://www.barret-jackson.com/
Big 3 Parts Exchange — in San Diego
http://www.big3partsexchange.com/
Billetproof — in Antioch, CA
http://www.billetproof.com/
California Hot Rod Reunion — in Bakersfield
http://www.nhra.com/
Car Shows in the New Jersey Area
http://www.njcarshow.com/
Cars at Carlisle
http://www.carsatcarlisle.com/
Championship Auto Shows, Inc.
http://www.casionline.com/
Cruisin' the Coast — on the Mississippi Gulf Coast
http://www.cruisinthecoast.com/
Goodguys Events
http://www.good-guys.com/
Grand National Roadster Show — in Pomona, CA
http://www.hotrodshows.com/
Heavy Rebel Weekender — in Winston Salem, NC
http://www.heavyrebel.net/
Hot August Nights — in Reno, NV
http://www.hotaugustnights.net/
Hot Rod and Rockabilly Rumble — in East Hartford, CT
http://www.theroadagents.com/
Hot Rod Fallout — in South Glastonbury, CT
http://www.hotrodfallout.com/
Hot Rod Hoedown and Rock and Roll Rumble — in PA
http://www.hotrodhoedown.com/
Hot Rod Power Tour — WI to TN
http://www.familyevents.com/
Hotrod & Restoration Trade Show — in Indianapolis, IN
http://www.hotrodshow.com/
Hotrod-A-Rama — in Tacoma, WA
http://www.hotrodarama.com/
The Hunnert Car Pileup — in Chicago
http://www.hunnertcarpileup.com/
ISCA — International Show Car Association
http://www.theisca.com/
Jalopy Showdown — in York Springs, PA
http://www.jalopyshowdown.com/
Kool April Nites — in Redding, CA
http://www.koolaprilnites.com/
L.A. Roadsters Fathers Day Show — in Pomona
http://www.laroadsters.com/

Land Speed Record Racing Schedule
http://www.roadsters.com/races/

The Lonestar Round Up — in Austin, TX
http://www.lonestarroundup.com/

Long Beach Hi-Performance Swap Meet
http://www.toppingevents.com/

Michigan Car Show Events
http://www.cruisin-usa.com/

Midnight at the Oasis
http://www.caballeros.org/

National Street Rod Association Events
http://www.nsra-usa.com/

San Francisco Rod and Custom Show
http://www.rpprodinc.com/

Pebble Beach Concours d'Elegance
http://www.pebblebeachconcours.com/

Pomona Swap Meet — in Pomona, CA
http://www.pomonaswapmeet.com/

Portland Roadster Show — in Portland, OR
http://www.portlandroadstershow.com/

Portland Swap Meet — in Portland, OR
http://www.portlandswapmeet.com/

Rat Fink Events
http://www.ratfink.org/events/

Rocky Mountain Rod and Custom Car Show
http://www.greybeardpromotions.com/

Run to the Sun Car Show — in Lake Havasu City, AZ
http://www.relicsandrods.com/

Sacramento Autorama
http://www.hotrodshows.com/

SoCal Car Culture — events listings and photo coverage
http://www.socalcarculture.com/

Syracuse Nationals — in Syracuse, NY
http://www.rightcoastcars.com/

Toyz for Totz Rod Run and Car Show
http://www.rememberwhencruise.com/

Twilight Cruise Night — at the NHRA Museum in Pomona
http://museum.nhra.com/

Viva Las Vegas — in Las Vegas
http://www.vivalasvegas.net/

Zephyrhills Swap Meet — in Zephyrhills, FL
http://www.collectorcarauction.net/
---
Hot rod sites
---
---
Hot rodders
---
---
Hot rods overseas
---
---


All text and images on Roadsters.com
are Copyright 1996-2013 Dave Mann